EGL Certified 2.43 ct SI1 Natural Fancy Yellow & Pink Diamond Engagement Wedding 18k Ring
World Class EGL USA Certified 2.43 Carat Natural Fancy Yellow & Fancy Pink Diamond Engagement Cocktail Ring. The one of a kind beauty features an absolutely stunning UNTREATED Fancy Intense Yellow Center diamond with 100% natural color and clarity, master cutting, elegant octagonal shape and extraordinary "Eye Clean" SI1 Clarity.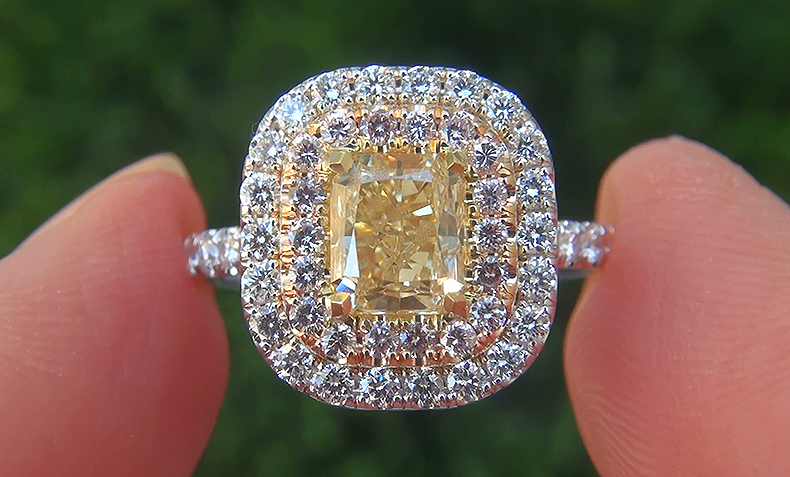 This ring also boasts 60 carefully selected near flawless to eye clean VS2-SI1 clarity accent diamonds of which 42 are white round brilliant colorless & near colorless F-G color & 18 are fancy pink round brilliants totaling .92 carats combined displaying exceptional sparkle and fire. The setting is an elegant masterpiece of its own boasting solid 18k white, rose & yellow gold.
This Brand New EXTRA FINE QUALITY EGL-USA CERTIFIED "one-of-a-kind" 2.43 carat engagement – wedding – anniversary – cocktail ring featuring a Very Rare SI1 Clarity UNTREATED Fancy Yellow Diamond set into SOLID 18k White, Rose & Yellow Gold and accented with sparkling diamonds. The "Jaw Dropping" Fancy Yellow Diamond measures 6.02 mm x 5.02 mm X 3.00 mm with the most sought after Fancy Intense Yellow Color and an Octagonal Brilliant Cut weighing a WHOPPING 1.51 carats, offering ELECTRIC SPARKING FIRE. There are also 60 natural untreated accent diamonds totaling an additional 0.92 carats (42 white round brilliant & 18 pink round brilliant) set with the Fancy Yellow Diamond in a classic style. These "Perfectly Clear" accent diamonds are graded at NEAR FLAWLESS to EYE CLEAN "VS2-SI1" Clarity with COLORLESS & NEAR COLORLESS F-G + Fancy Pink Color so you can be assured of the OUTSTANDING quality, excellent brilliance, flash, sparkle & fire. The ring measures 13.52 mm x 12.50 mm at the head and sits up 7.28 mm off the finger. For more details, please continue reading and see both gemological reports PLUS the high resolution photos below.
This is an exquisitely crafted "one-of-a-kind" Diamond Connoisseur's world class engagement ring. It offers a gorgeous design with detailed craftsmanship adding to the amazing style. The unique "super high end" ring was made at the hands of a true jewelry master craftsman. This is the BEST & ONLY BIG SIZE "SI1 Clarity" Fancy Yellow Diamond engagement ring up for auction…a unique chance to own a very rare top quality diamond.
Anyone has a chance to win because this is a real no reserve auction. All of the beautiful diamonds are 100% genuine totaling a very substantial 2.43 carats and the ring is a U.S. size 6.50. The total ring weighs a STRONG & STURDY 4.63 grams and is constructed of solid 18k White, Rose & Yellow Gold with exceptional PRIME QUALITY natural diamonds.