This gorgeous Chopard Choker Necklace is a rarity with rich luscious green old-cut Colombian emeralds.
Long associated with Spring and birth, gloriously green emeralds have an extensive history of healing and supernatural powers.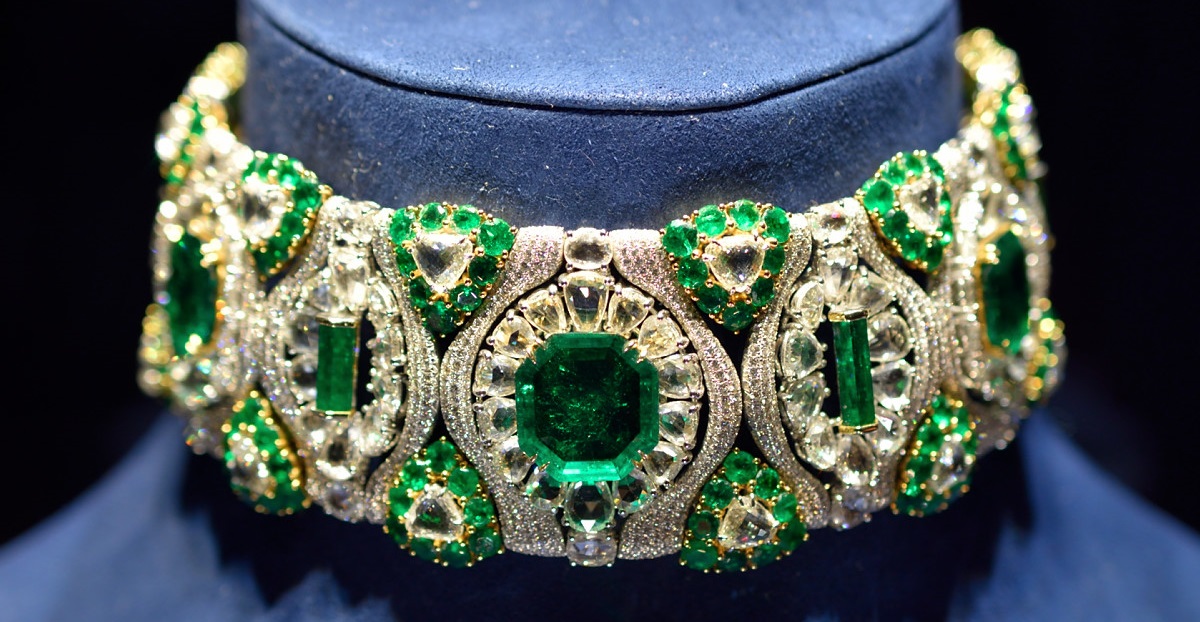 Rare and beautiful, emerald easily earns its reputation as "The Jewel of Kings." The list of celebrated royalty who conspicuously displayed this green gem includes no less a figure than Cleopatra. Indeed, she may have done a great deal to popularize that connection. The ancients considered these gemstones sacred symbols of fertility and immortality. Reportedly, Cleopatra adorned herself and her palace with emeralds and also gave them as gifts to foreign dignitaries. Most likely, she intended this as a display of wealth and power.
Emerald symbolism encompasses not only royalty but also wit, eloquence, and foresight. Today, emerald also serves as the May birthstone. Whatever its supposed mystical properties, this gem has always been regarded as a superior jewel. Whether the stone of kings or deities, emerald's stunning color has brought it an honored status amongst cultures worldwide.
No gemstone, including emerald, is ever completely perfect. Most have internal imperfections, or flaws, called inclusions. Inclusions generally decrease the value of gemstones. Not so with emeralds. Many people feel that the tiny flaws add to the character of the emerald. Because the inclusions often look like leaves and vines, they are called jardin, French for "garden." Other inclusions create a satiny appearance known as silk.
Natural flawless emeralds are extremely rare and extremely expensive. In fact, most dealers regard flaws as an indication that the stone is natural.