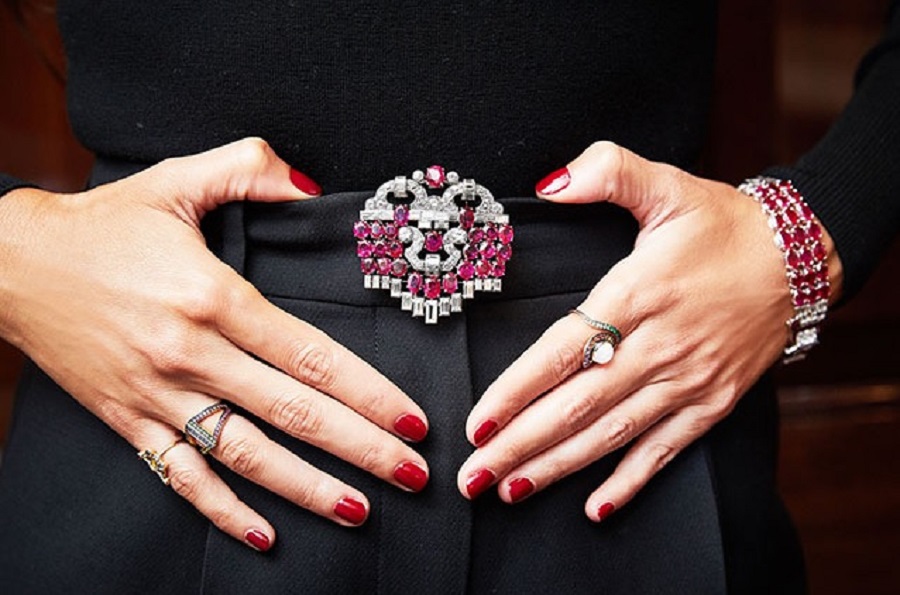 The collection of rubies on this 1930s necklace and brooch is remarkable. Their color is vibrant and warm. They can be worn together — the brooch to decorate the back part of the necklace — or, as you did, unhesitatingly when you came in, as the buckle of a belt. They are of French manufacture but not signed pieces.
The beautifully articulated ruby and diamond bracelet by Cartier could almost hint the jewels are en-suite, demonstrating how iconic pieces of an era, even if not born together, can seem as though they belong together.
Composed of three rows of oval, cushion-shaped and circular-cut rubies, decorated with geometric motifs set with calibré-cut rubies, circular-cut and baguette diamonds, length approximately 175mm, signed Cartier, numbered. 
This bracelet has remained in the same family since it was purchased at Cartier in the 1930s. It is also mentioned in an insurance valuation by Chaumet, dated 14 July 1943. 
Accompanied by Gübelin report no. 17119004, stating that a large majority of the rubies is of Burmese origin, with no indications of heating.
All of the pieces discussed here feature in the upcoming Magnificent Jewels and Noble Jewels sale in Geneva on 15 November.