Tag Archives: Aquamarine Jewelry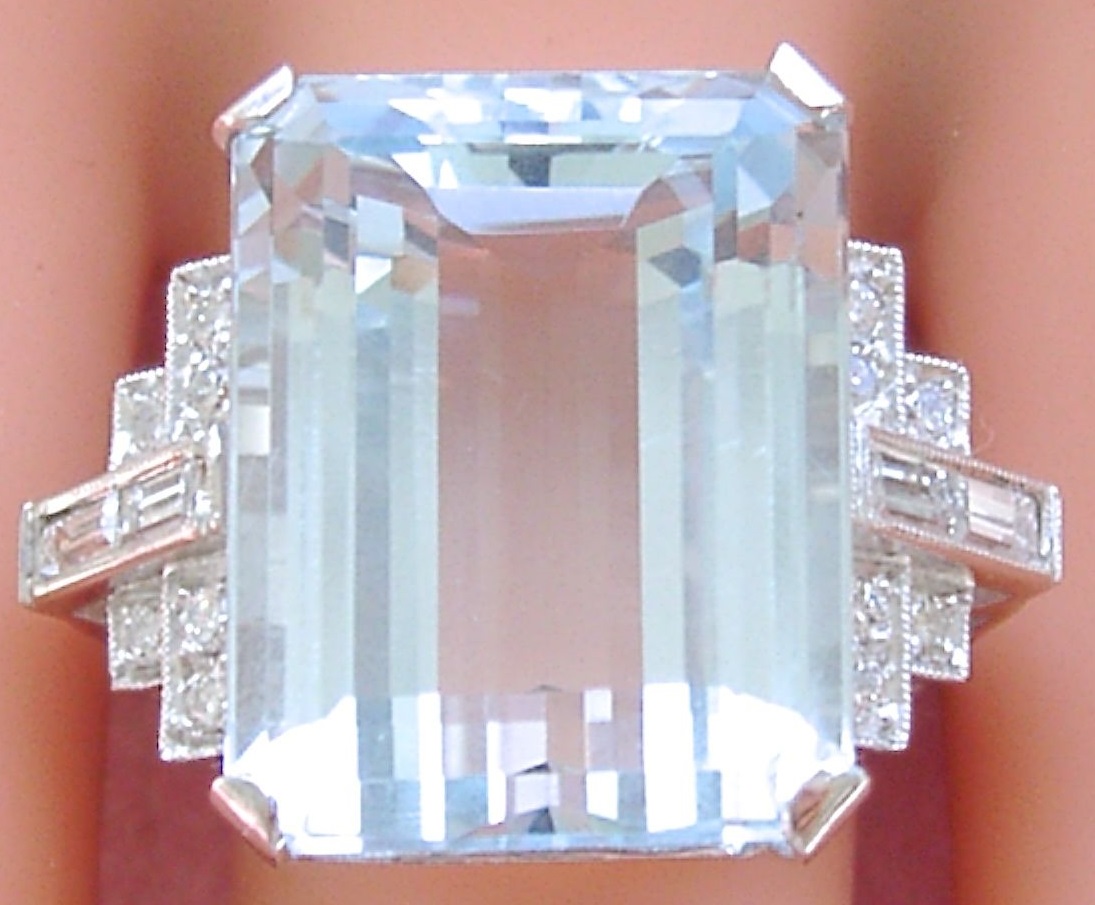 This is a gorgeous and large estate ring that was handmade in the Art Deco style, post 1950, from Platinum and it is stamped 950. The ring is centrally prong-set with 1 natural aquamarine that weighs a whopping 25.96 Carats! This aquamarine is an Emerald Cut with a light blue shade. The aqua alone measures 18.73 x 14.33 x 9.07 mm. Price: US $5,995.00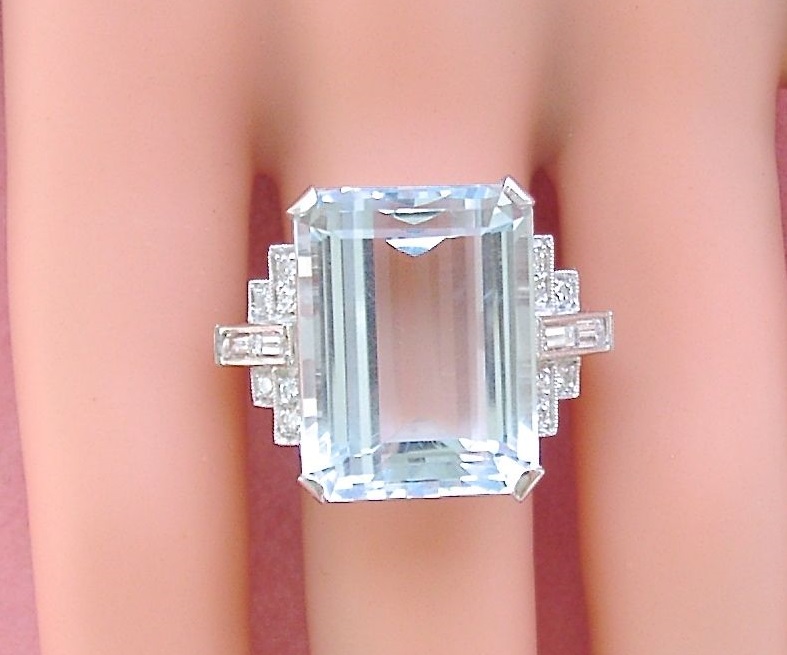 The shoulders of the ring are set with 4 Baguette cut diamonds of F-G color, VS clarity that weigh approx. .30 ctw., along with 12 Brilliant cut diamonds of G-H-I color, SI to I clarity that weigh approx. .30 ctw. The total diamond weight is approx. .60 ctw. The ring measures 15/16" shoulder to shoulder and it sits just over 3/8" high off the finger. The ring size is almost 7 ¼ and the total weight is a nice and heavy/solid 13.4 grams! Beautiful and sparkle of the finest quality. A classy ring that will definitely be noticed.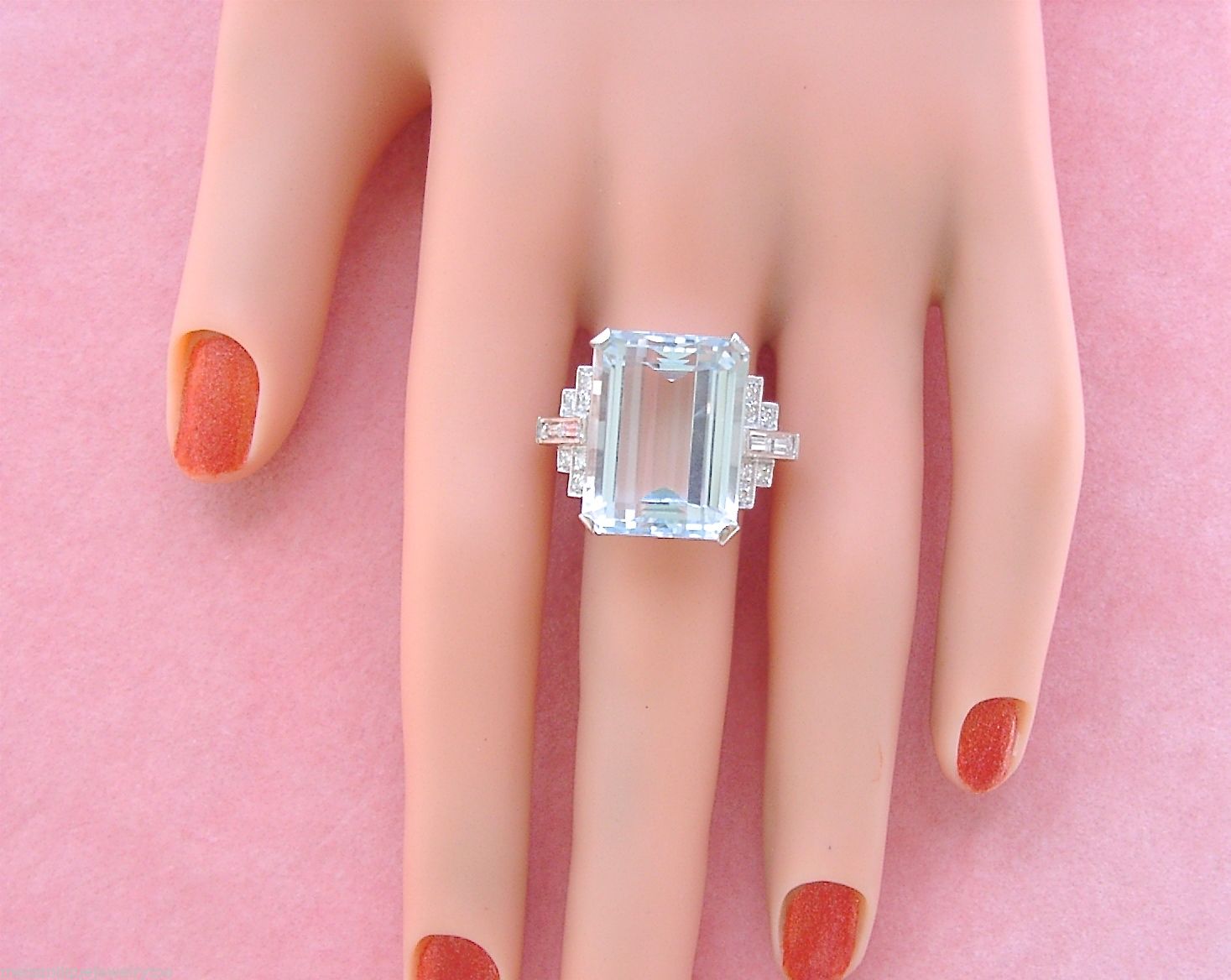 Aquamarine is most famous for its breathtaking sea-blue colors which can range from light to dark-blue.  Aquamarine is exceptionally hard and has an outstanding vitreous glass-like luster.  It is one of the official birthstones for those born in March.  The name 'aquamarine' was derived from an old Latin expression which meant 'seawater'.  The gemstone Aquamarine is the modern March birthstone as adopted by the American National Association of Jewelers in 1912. It is also the birth stone for the Zodiac sign of Scorpio.  Aquamarine is suggested as a gem to give on the 16th and 19th wedding anniversaries.  The most valuable aquamarines come from Brazil.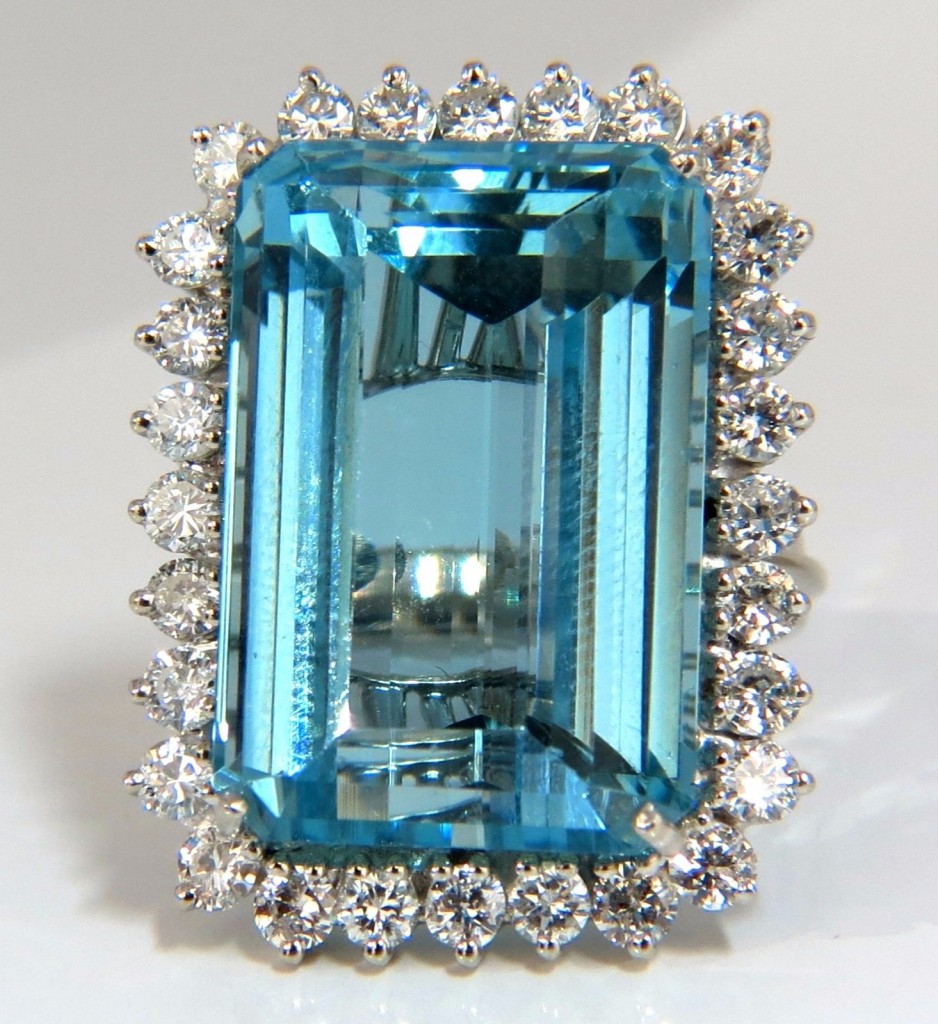 GIA Certified 33.85ct. Natural Aquamarine Ring with excellent clean clarity.  The gem has a octagonal step cut (emerald cut).  Vivid Blue Aqua color that is brilliant sparkles from all angles and pristine transparency.  Total of 1.50 ct side diamonds with Vs-2 Clarity, G-color.  Rounds Brilliants full cuts. Set in a 14k white gold setting that weighs 14.9 grams. Deck of the ring is 1.1 X .85 Inch with depth of ring .52 inch.  An exquisite ring designed and created by Avis Diamond.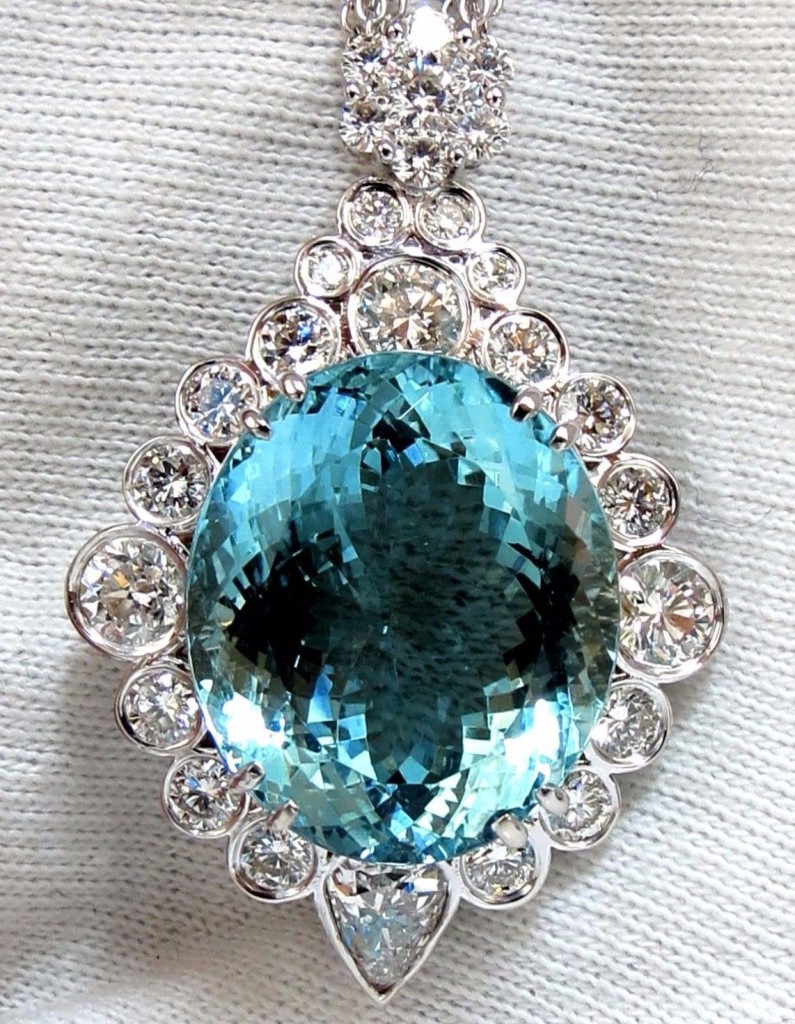 GIA 29.24 "Blue" Aquamarine & Diamonds necklace.  This gorgeous aquamarine gem is oval and full cut with vibrant blue aqua color measuring 22.53 X 19.15 X 11.99 mm.  Total weight of the stunning diamonds are 4.47ct. with Pear & Rounds Full cut brilliants.  The diamonds have a sparkling Vs-2 clarity G-color. Beautiful 14K white gold with a grand weight of 28 grams.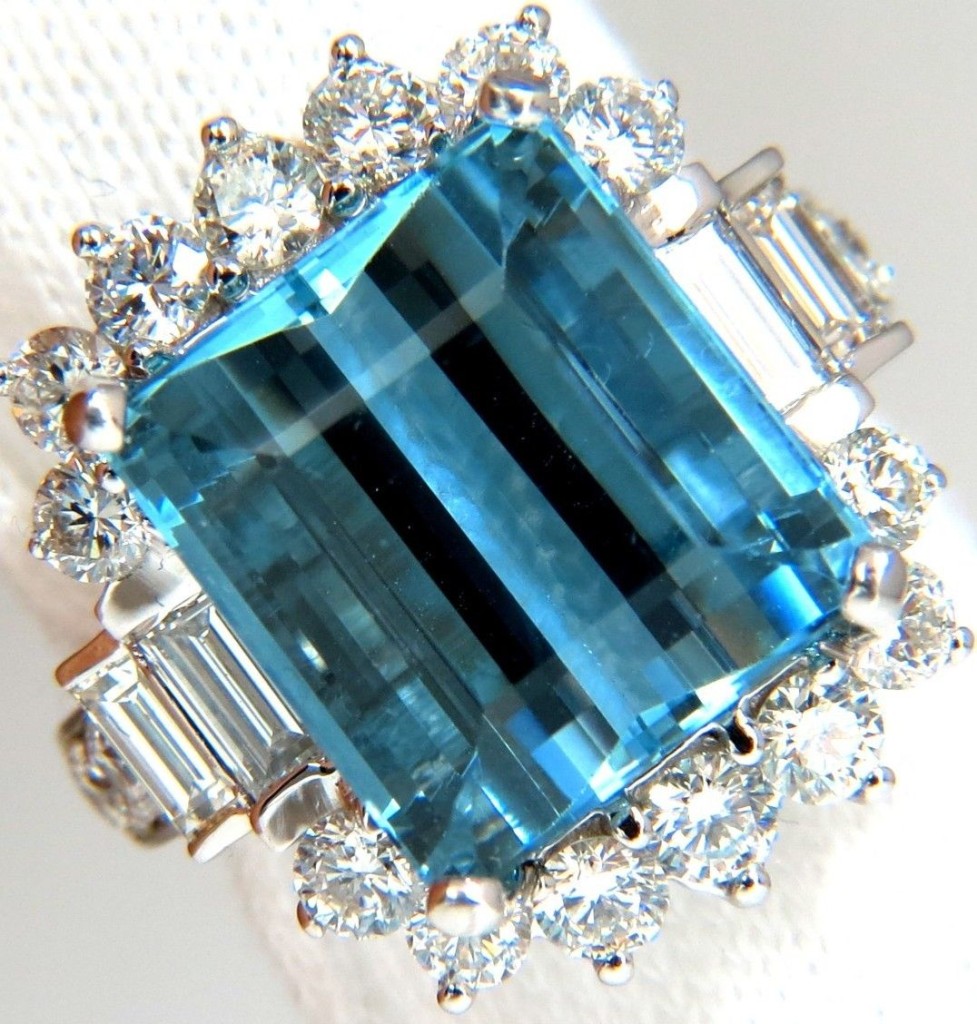 A Gorgeous and Complex Aquamarine ring design at its best.  GIA 12.90ct. Natural Aquamarine, with excellent clean clarity. A beautiful Octagonal Step cut that has outstanding vivid blue aqua color. This stunning aquamarine has brilliant sparkles from all angles with pristine transparency.  There are 3.00 ct of side diamonds with beautiful Vs-2 Clarity and F/G-color.  The diamonds are Baguettes & Rounds Brilliants full cuts.  The beautiful setting is 18k white gold with a nice weight of 14.9 grams.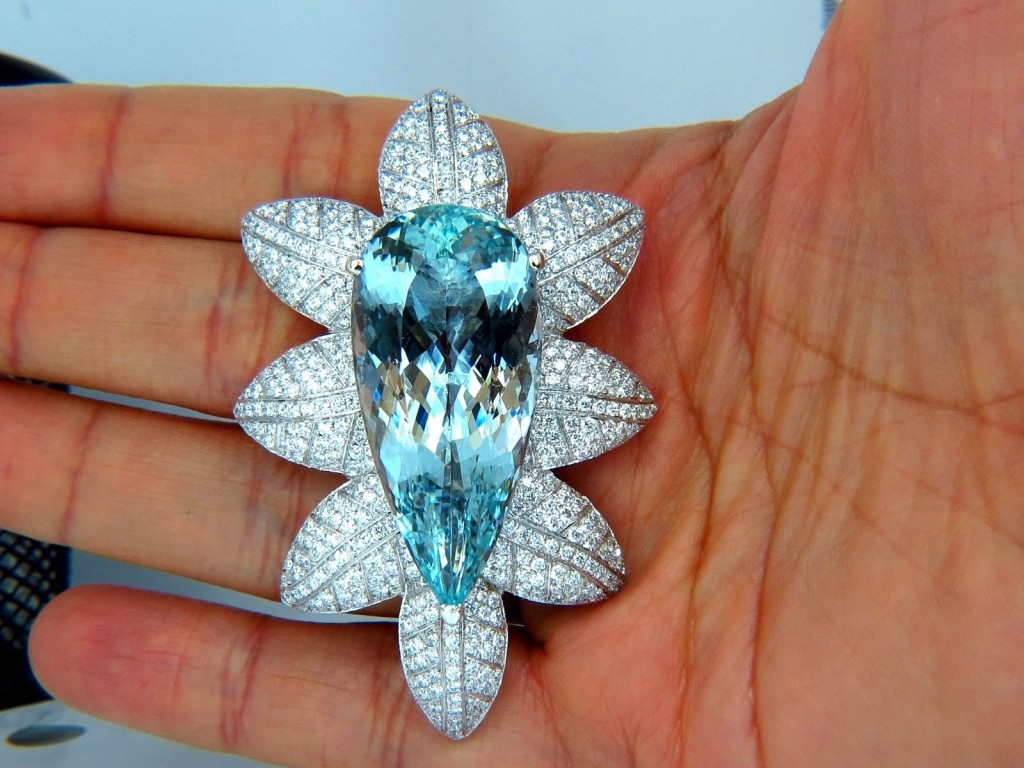 An exquisite 69.37 ct Natural GIA Certified Aquamarine and 8.00 ct diamonds brooch.  A 3D Still Life Snowflake / Frost Leaf aquamarine with VS clean clarity, Brilliant pear cut.  This beautiful aquamarine gem is 43.45 X 20.30 X 13.70 mm.  The aquamarine is surrounded by 8.00 ct. of natural Diamonds that are Round Full cuts.  These sparkling diamonds are F-color, Vs-1 Vs-2 clarity that are mounted, bead set and Master Craft Graver patterns in 18K White Gold.  Dimensions of the brooch are 2.85 X 1.84 Inch.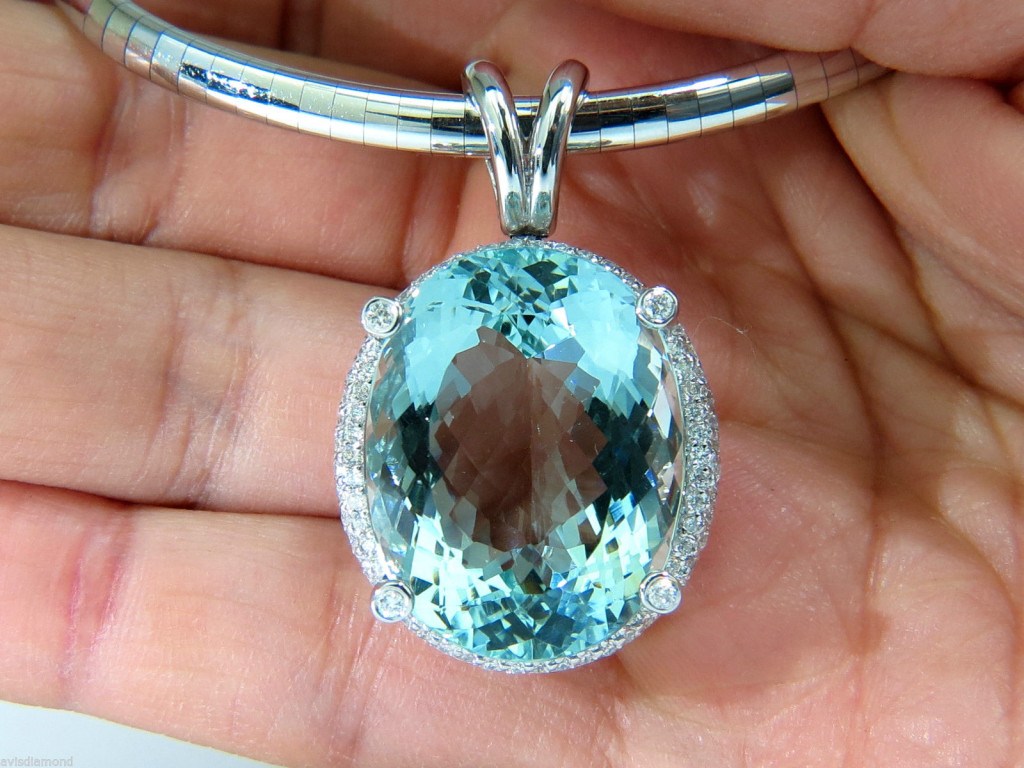 An alluring 40.44 ct Natural Aquamarine top gem with clear clarity, and oval and Full cut with vibrant aqua color.  This large aquamarine measures 26 X 20 mm, and is surrounded by 1.23 ct of Diamonds.  These sparkling diamonds are Vs-2 clarity with G-color. Overall pendant dimensions without bale is 28.5 X 25.5 mm and depth of 15.5 mm.  A beautiful  Omega Necklace will accompany that is 18 inches 4.2 mm thick.  Set in beautiful 14K white gold with a grand weight of 40 grams.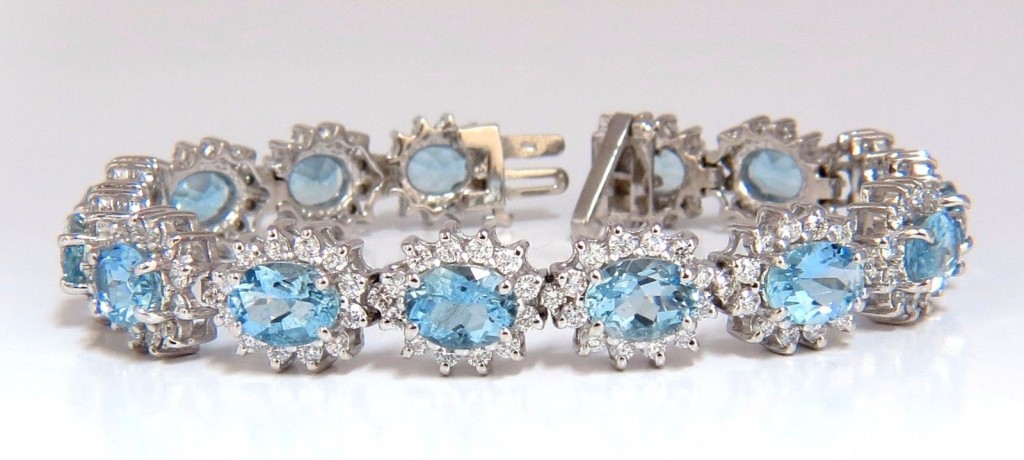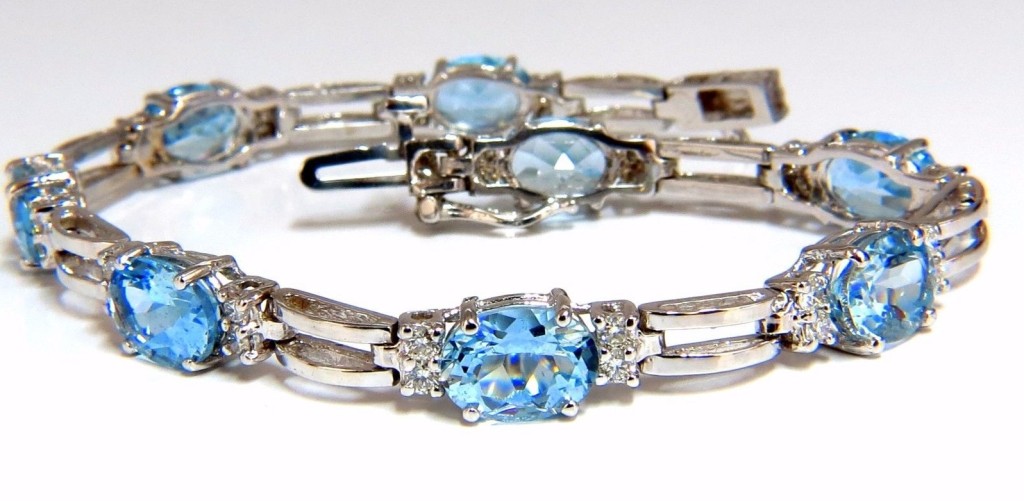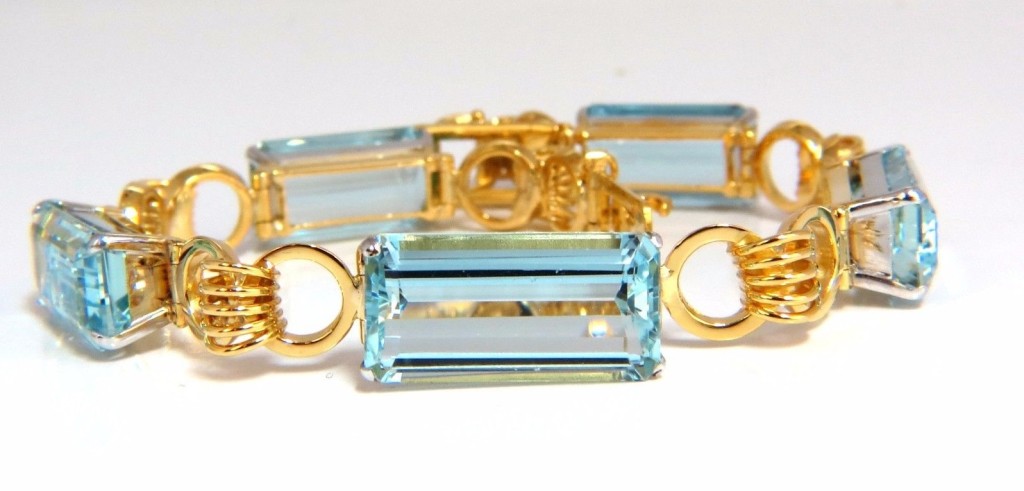 From the light blue of the sky to the deep blue of the sea, aquamarines shine over an extraordinarily beautiful range of mainly light blue colors. Aquamarine is a fascinatingly beautiful gemstone. Women the world over love it for its fine blue shades which can complement almost any skin or eye color, and creative gemstone designers are inspired by it as they are by hardly any other gem, which enables them to create new artistic cuts again and again.