With its juicy burst of color, the aptly named watermelon tourmaline perfectly mimics the rind and flesh of our favorite summer fruit. Here we take a closer look at the origins of the watermelon tourmaline and talk to the designers who have a particular preference for working with this one-of-a-kind gem.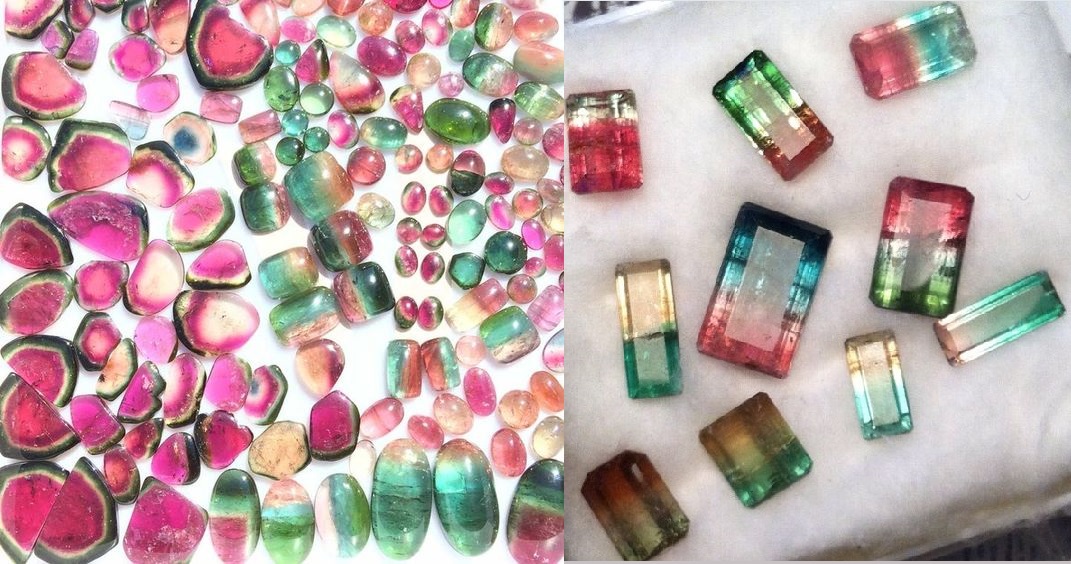 Most tourmaline deposits are found in veins that run through rocks, which were created by molten magma from volcanoes. As the magma cooled, large cracks formed, which were filled with a solution of water and minerals such as iron, lithium or manganese that, over time, turned into crystals of tourmaline and other stones. It is these trace elements that give tourmalines their vivid colors, ranging from red, green and blue to yellow and orange.
Динев турмалин
Watermelon tourmaline
#watermelon #bicolor #tourmaline #jewel #jewelry #jewelery #gem #gemstone

Posted by Lapis Magica on Monday, April 3, 2017
Watermelon tourmaline is an interesting multi-colored elbaite variety. Gems are usually fashioned in thin polished slices to display the crystal's concentric color rings. If you use your imagination, the green represents the skin of the watermelon, white makes up the rind, and pink is the sweet fruit. Incredibly, the colors of watermelon tourmaline are 100% natural, a rare occurrence in nature that makes the gem highly collectible.